This article is going to give you the most embarrassing truth or dare questions ever!
Truth or dare is a perfect game, because it gives everyone, no matter how old, a perfect excuse to ask and answer ridiculous and personal questions. It also gives us an excuse to do and request others do ridiculous, hilarious, embarrassing and outrageous things.
Truth or dare is probably the most iconic party game other than spin the bottle. It's a classic that can be absolutely hilarious and ridiculously fun (and is actually a really great way to get to know someone). You can play this with someone you have a crush on, someone you're dating, friends at a party… it's easy to play in pretty much any situation.
Take The Quiz: Does He Like You?
Click here to take our quick (and shockingly accurate) "Does He Like You" Quiz right now and find out once and for all if he likes you…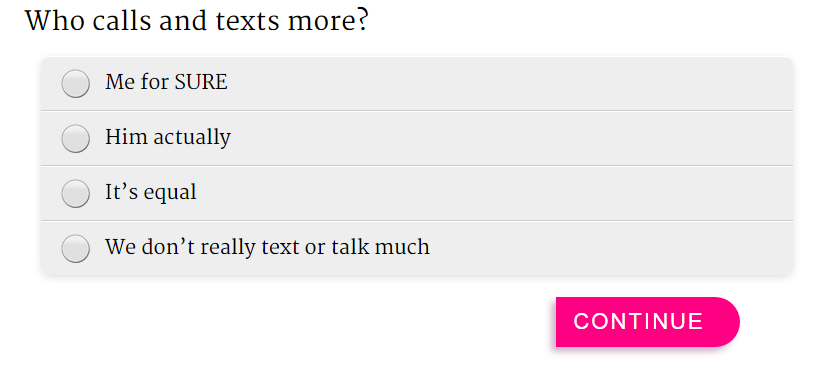 Rules of The Game
We all know how the game works. Everyone has a turn to ask someone to pick "truth or dare". If the person chooses to answer a truth question, absolute honesty is required. Or, if they pass, they have to complete a dare of the askers choice. Then, once the dare task is completed, they get to ask anyone else either a truth or a dare. The rules can change depending on the setting you're playing with, but the general concept remains the same.
MORE: 50 Great Questions To Ask A Guy
Now, keep in mind, the dares shouldn't be going overboard… for example, I've been dared to run around the block naked. The game should be extremely fun. Just remember, I think we all know injuries and police showing up is a definite buzz kill. The fun of the game is to not only get to see people's true insecurities, but also see how outgoing a person is and what surprising information they are willing to share.
The best part is, even if someone remains secretive and silent, you get to ask them to do ridiculous dares.
The aim of truth or dare is not only to have fun, it also a good way to get to know someone while you share some laughs. This is probably one of the best ways to not only get to know a person you're interested in better but become closer to your entire group of friends.
MORE: The Greatest Truth Or Dare Questions And Dares You'll Ever Read
Just remember to keep the truth in context and not get too personal or morose. Keep the game fun! Here are some truth and dare questions that should get the game going!
Best "Truth" Questions:
1. If you had to hook up with anyone here who would it be?
2. What's your most embarrassing secret?
3. Have you ever told a lie to try to impress someone?
4. Have you ever been a thief and stolen something?
5. What's the most deviant thing you have ever done?
6. What's your craziest sexual fantasy?
7. Have you ever been extremely rude to someone you know?
8. Do you have anything hidden in your house that no one knows about?
9. Have you ever had sex with someone who you didn't like?
10. Is there anyone in this room you have been with?
11. If you could somehow become a man/woman what's the first thing you would do?
12. Have you ever been caught doing something embarrassing in public?
13. Have you ever had an awkward "bathroom" experience?
14. Do you have any secret habits that would make people think you were gross?
15. What's the grossest thing you've ever had to do?
MORE: Try These 20 Dirty Truth Or Dare Questions For Adults To really Turn Up The Heat
16. What's your worst party story/accident?
17. Have you ever had a crush that didn't like you back?
18. What's something that only you know about yourself that no one would guess?
19. Have you ever been arrested?
20. Have you ever had to get "physical" with someone during an altercation?
21. If you had to cheat who would it be with?
22. What's your worst nightmare?
23. Who was your first kiss and how was it?

24. How old were you when you lost your virginity?
25. What would cause you to break up with you girlfriend/boyfriend?
26. Have you ever peed the bed?
27. Who is the first person in the room you would sleep with?
28. If you had to kill someone, marry someone, or have sex with someone in this room who would those three people be?
29. Have you ever regretted posting something on social media?
30. What is the most awkward sexual encounter you have ever had?
MORE: Amazing Never Have I Ever Questions
31. What's the craziest thing you have ever done sexually?
32. Who is the last person you've been with?
33. Have you ever been caught picking your nose, or scratching somewhere you shouldn't be scratching in public?
34. Have you parents ever caught you "in the middle of something"?
35. Have you ever betrayed a friend?
36. Weirdest thing you have ever eaten?
37. Have you ever been jealous of someone totally unexpected?
38. Biggest lie you've ever told?

39. Have you ever been ashamed of dating someone to a point that you refused to tell anyone about them?
40. Biggest turn on?
41. Biggest turn off?
42. Have you ever lied about your age?
43. Have you ever thrown up from drinking?
44. Have you ever done drugs?
45. Been arrested?
MORE: 425+ Crazy Truth or Dare Questions to Ask Your Friends
Best "Dare" Questions:
1. Take a naked picture and let someone in the group send it to anyone in your contact list.
2. Sing your favorite song as best as you can.
3. Yell out the window at any random passer-by that you just got laid.
4. Eat a spoonful of cinnamon.
5. Take a hearty bite of ginger root.
6. Let someone write something with permanent marker on your body.
7. Call the last person you called and speak in a random accent.
8. Eat a banana as fast as you can and chug some sprite and try not to throw up for one minute.
9. Try to do the splits.
10. Slap yourself in the face as hard as you can.

11. Tell a story with your butt cheeks like Ace Ventura.
12. Run across the street or apartment hallway and ring or knock on five doors.
13. Make out with the wall passionately as of it was your lover.
14. Dance as sexy as possible with no music.
15. Let someone call a random number in your contact list and say whatever they want.
MORE: 125+ Crazy Dares for Truth Or Dare
16. Try to kick yourself in the face.
17. Touch someone intimately of the same sex.
18. Eat a piece of trash.
19. Crush an orange over your head and rub it in.
20. Jump in the pool or shower fully clothed.
21. Make stupid, silly faces for two minutes.
22. Try to make everyone laugh.
23. Rip your shirt off like you're the hulk
24. Let someone in the room give you a severe wedgie.
25. Wash your face in toilet water.
26. Lick on a doorknob.
27. Make an honest attempt at trying a front flip.
28. Hold your breath until you pass out.
29. Do the Macarena.
30. Let us boil up a disgusting soup/tea of anything that isn't deadly or poisonous and drink it.

More: Insanely Good Dares for Truth or Dare to Up the Thrill Quotient
31. Drink a cup of a syrup.
32. Group text your entire contact list that you have a major secret to tell them.
33. Dress up as the opposite sex and post a picture of it.
34. Pretend to be an animal for one minute.
35. Slap the top of your head while repeating "I'm stupid" and let people film and post it.
Just remember. Have fun and be safe, and obviously, not wanting to answer a question or complete a dare is not a death sentence. You don't have to do something that's going to make you extremely uncomfortable and feel miserable.
Do or say whatever you feel comfortable with! Don't try to impress, just be you! And have fun!
There is no reason to make this into a game where you feel nervous and don't want to play.
MORE: 62 Good Truth or Dare Questions
Realize that you will simply be discovering random, crazy details about others. Over-sharing super personal information about yourself and learning this kind of information about others can be fun and hilarious.
Truth or dare is a fun game at any age, so try these questions out!
Now if you're planning on asking these questions to a guy you have a crush on and enjoy spending time with, these are all great truth or dares sure to spark the conversation and have fun. But if you want to deepen things, I want to ask you question…
Because there are 2 big turning points every woman experiences in her relationships with men and they determine if you end up in a happy relationship or if it all ends in heartbreak.
So pay attention because the next step to take is vitally important. At some point he's going to ask himself if you are the woman he wants to commit himself to for the long term…
Do you know how men determine if a woman is girlfriend material (the type of woman he commits himself to) or if he sees you as just a fling? If not, you need to read this next: The #1 Thing Men Desire In A Woman…
And the second big problem many women face: Do you feel he might be losing interest, going cold emotionally or pulling away? If so, then you need to read this right now or risk losing him forever: If He's Pulling Away, Do This…
Want to find out if he really likes you? Click here to take our quick (and shockingly accurate) "Does He Like You" Quiz right now and find out once and for all if he likes you…
Take The Quiz: Does He Like You?