As we all know, getting acquainted with someone of either sex can be an awkward thing to do. I've come up with a list of questions that should ease the stress, and hopefully bring out a few laughs. Comedy and humor are some of the most unifying things between two people. I feel if you can laugh with someone you'll get along. Every time I'm in a new crowd, I feel laugh or two is always the best way to break the tension and get in a lane of moving towards a closer relationship.
MORE: 50 Great Questions To Ask A Guy
Take The Quiz: Does He Like You?
Click here to take our quick (and shockingly accurate) "Does He Like You" Quiz right now and find out once and for all if he likes you…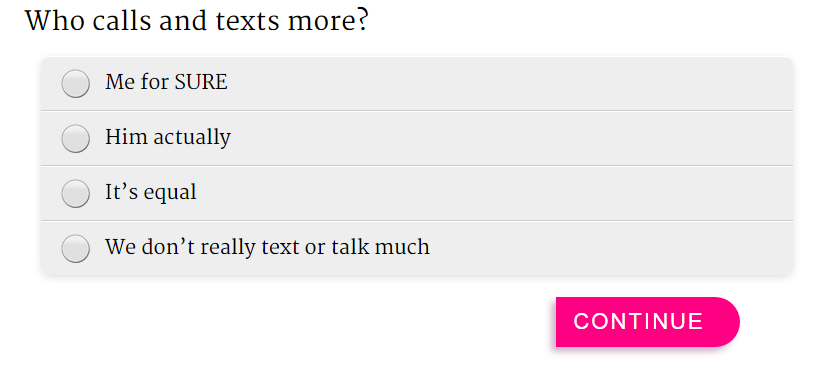 These questions will help break the ice, and I'm sure you'll find a few that anyone can laugh at that will help generate a more fun, comfortable environment. So, without further or due, these are some fun questions I'm sure you'll be able to use.
1. What's the most terrible movie you have ever seen and why?
2. What's the most awkward/ cringe worthy thing that has ever happened to you?
3. If you were forced to eat a single cuisine for the rest of your life what would it be?
4. What's on your "bucket list"?
5. What's your view on reality tv "stars"?
6. If you had a reality show what would the premise be?
7. What kind of characters would your family be in the show?
8. What is the most ridiculous thing you have ever seen?
9. What's the dumbest fashion trend going on right now?
10. What would your mom do if you became a gangster rapper?

MORE: Ask A Guy You Like These 20 Cute, Amazing Questions
11. What is the last car model you would choose if you were forced to have a single car for the rest of your life?
12. What's one thing that makes you just snap?
13. Do you have any pet peeves?
14. Do you have any extracurricular talents?
15. What's your favorite hobby?
16. If you could move and live anywhere where would that be?
17. If you could cancel one tv show which one would it be?
18. If you became the president what's the first law you change?
19. What's the funniest catch phrase you've ever heard?
20. What's the stupidest way you have ever hurt yourself?
MORE: 20 Questions to Ask a Guy You Like to Get Closer
21. What's your favorite movie scene?
22. Do you have a song you just can't help but sing along with?
23. Have you ever gotten away with anything "bad"?
24. If you had an invisibility cloak what's the first thing you'd do and where would you go?
25. What's your biggest phobia?

These questions are fun and universal, you can ask them to just about anyone and get a positive response. They are not too forward, and the context of someone's answers can tell you a whole lot more about them.
Just remember always be a great listener!
We only feel confident to open up to someone when we feel we are being listened too, can sense interest, and a feel a lack of judgment towards our responses. Don't try to impress anyone! It's about discovering who they are as a person. If you are a good pair everything will come off as second nature and flow freely, because you are a good fit naturally.
MORE: 40 Fun and Weird Questions to Ask a Guy
If things head in a positive direction. It's not that you somehow put a spell on someone, you guys are just simply cohesive and likeminded. There is no way to force someone else to have feelings so don't try to, and especially don't feel bad if you don't get the reaction you want.

If that's the case, it's ok! We are all different in so many ways!
I hope you have some fun asking these questions, and can move forward to a closer friendship, relationship, whatever that may be. These are some good, benign questions that won't scare anyone always, and are guaranteed to get a guy talking!
Fun questions to ask a guy are going to come in handy but will not be enough if you want to make him truly desire you… The #1 Thing Men Desire In A Woman…
Want to find out if he really likes you? Click here to take our quick (and shockingly accurate) "Does He Like You" Quiz right now and find out once and for all if he likes you…
Take The Quiz: Does He Like You?