ok – you really like this guy and you really, really want to kiss him. Kiss him deeply and passionately. Kiss him in a really hot way.
You want to french kiss him.
But you're afraid you're going to screw it up! Or do something embarrassing and make him hate you forever! Or that his tongue will turn out to be a squid!
That's legitimately a recurring nightmare that I have.
Either way – here's everything you need to know to french kiss like a pro (1).
1. How To Make Your Move
A . First of all, you want to keep your lips soft. Your lips should be smooth – so think Chap stick or lip balm if you're chapped.

Another way to keep your lips soft is to drink water before you see him. Since chapped lips are all about dehydration, if you keep yourself hydrated you shouldn't have to worry about them.

If you've got no time and he's going right in for the kiss, quickly lick your lips and then press them together. That will give you (temporarily) soft lips for the right moment if it sneaks up on you.
Take The Quiz: Does He Like You?
Click here to take our quick (and shockingly accurate) "Does He Like You" Quiz right now and find out if he likes you…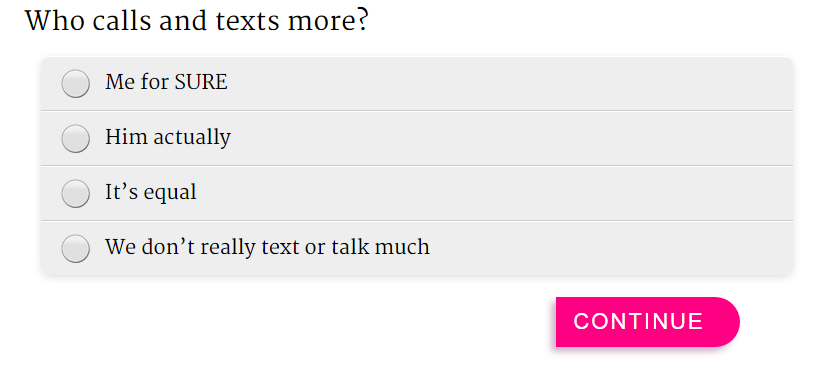 B . Second, you want to make sure your breath is fresh. If you're french kissing someone who has bad breath – you're going to notice!

French kissing will tell you exactly who practices good oral hygiene and who doesn't – so make sure to brush your teeth and floss (2).

If you're stuck in a situation where you've got bad breath and you know you want to kiss someone, a breath mint or a stick of gum is a lifesaver.

Otherwise, on dates that you think could get romantic avoid foods like garlic, corn, milk, onions, and coffee.
C . A great french kiss isn't just about the kiss itself – it's also about finding the right moment. It's about building intimacy together, and having the intimacy and tension grown and grow until you're both ready to romantically attack each other.

Privacy is key here, as is being relaxed. If you're worried about someone walking in on you, how are you going to have a good kiss?

Also, it's important to be able to read your partner's signs. Do they keep making eye contact with you and glancing at your lips? Are they positioning themselves closer and closer to you?

Really – the best judge of the moment is going to be your gut. Do things feel right? Do you have an overwhelming urge to kiss them? Those are strong signals that the time is right for a kiss.
More: Here are 20 Ways To Be Cute And Melt A Guy's Heart
D . If you want to get a french kiss started off right, make sure to make eye contact beforehand. You want to make a real, intimate connection with your partner, and soulful eye contact helps.

To really make sure that they get the hint, let your gaze travel slowly between their eyes and their lips. Whatever you do – strong eye contact sends a powerful signal that you're interested in smooching this person.
E . Want to really drive him nuts? Then you have to smile at him before you kiss him (3). Especially if things are getting more and more intense, smiling is a way to keep things light and fun while still keeping the flirty vibe alive.

Remember, don't go for a full smile here. You're looking for a flirty smile that's soft and genuine, without being too intense. A soft grin without opening your lips works really well.

Make sure to hold eye contact with him through your smile to really hammer home the point that you want him to kiss you what a dolt .
F . Want to speed up the intimacy you feel with each other without actually making a move on him? Then you want to break the touch barrier.

A great way to build intimacy is to touch your partner. It shows that you're comfortable with their body touching yours – and you're comfortable touching their body.

When you've touched him – or he's touched you – he'll feel a lot more comfortable about making a move and kissing you.
G . When you're kissing, make sure to tilt your head to one side. If you kiss each other with your heads facing straight on, you're going to bump noses with each other!

It doesn't matter which way you tilt, so long as it's the opposite of your partner. Don't worry about accidentally bumping noses with him, you'll both naturally tilt your head so that you line up perfectly.
H . You want your french kiss to be perfect? Make sure you close your eyes! When people kiss with their eyes open the natural response is to suspect that they're dishonest or insincere.

So make sure you close your eyes right before you start to kiss, and keep them closed during the kiss (no matter how much you want to see what your partner looks like!
Exactly How To French Kiss Like A Pro
At the start, you're going to want to let your lips graze and brush over your partner's lips. Use a light touch! This will help you build excitement during the kiss and let your anticipation grow naturally. Plus, it lets him know you want to take things further – without being obvious about it. Definitely keep your movements slow and relaxed. Don't try to kiss him lightly lots of times, real passion is about slowly doing exactly what you want to do and amping up the tension as you go along.

2. Here's What To Do
A . Now it's time to start testing things out with your tongue. You've been kissing with just your lips enough – it's time to turn up the heat!

If this is your first time kissing your partner, it pays to be cautious rather than going all in all at once with your tongue. Slower is better!

A great way to signal to your partner that you're ready to get things more intense is to allow yourself to slightly open your mouth wider. Let your lips wrap around his lower lip – so that you lock lips and get ready for tongue action.

Remember – if your partner's not into it, then be ready to pull back. If they don't respond to either of those techniques, scale back the passion and kiss them regularly until they're comfortable.
See Also: Why Men Pull Away: 3 Easy Ways To Stop A Man From Withdrawing
B . now we're at the good part. If you've introduced tongue and your partner is reciprocating, you can start french kissing for real.

You want to keep your tongue moving, and you want to use light pressure. That can't be stated enough! Try allowing your tongue to slip into your partner's mouth. Feel out what your partner is doing – if their tongue is limp they might not be ready to french kiss!

You can make things fun in this stage too – try "tagging" your partner's tongue with yours and then pulling back, making him come to you to "tag" you back.

One important thing to keep in mind is to control how deep you go. You don't want to be shoving your tongue down your partner's throat! Stay shallow at the beginning and move from there.
C . One important thing to remember – don't forget to breathe! I mean, if you do, your body is going to remind you pretty violently, so I'd avoid that if I could.

Try breathing through your nose while you're kissing your partner – but don't be afraid to take a break!

Done right, a mid-kiss break can be sexy and intimate, while allowing you to take the breath you need. You can maintain physical contact with him by allowing your foreheads to touch, and smile.
3. Advanced Frenching Techniques For Experts

A . The best way to keep a french kiss exciting and sexy is to mix things up! You might want to do the same moves every time, but trust me, mixing up your moves is something your partner will really appreciate! There are a bunch of ways to switch things up, here are only a few:

You can switch up the speed of your kissing to give your partner some new sensations and spice things up. If you're totally comfortable going slow, speed things up for a few seconds to surprise your partner with a sexy sensation.

If you've had many makeout sessions with this person, one way to spice things up is to go a little deeper and more intense with your tongue than you did at the beginning. To make this as pleasurable for him as possible, go slow – not fast.

Another technique you should reserve only for a partner that you've been kissing for a while is pressure. There's a time and a place for a hard, powerful kiss – and a first date isn't it!
B . You also want to keep your hands moving. Don't pull out super seductive moves if it's your first date, but if you two have been smooching for a while then you can let your hands explore his body.

If you're looking for the most basic way to start, put your hands on your partner's hips, and explore from there. You can go up his back or into his hair if you want.

If it's your first kiss together, you can allow your hand to touch his shoulder, to build intimacy and feelings of comfort with each other.
C . Watch your partner's body language. Since there's no 'right' or 'wrong' way to kiss, people will naturally want to kiss each other in a lot of different ways!

This can mean that your partner is really into one thing you do – while not being into another thing you do at all. The most important thing for your partner is to notice what he likes and doesn't like, and act accordingly.

One important thing to remember – just because someone you kissed in the past likes one way of kissing, it doesn't mean your current partner does! Make sure to watch his signals to find out what he likes.

If he seems uncomfortable, definitely slow down and dial things back a notch. If he likes what you're doing (for instance, if you can hear him sigh or moan), then you know you're doing the right thing.

D . One fun thing to remember about kissing – you've got to practice to get good at it! The good news is, practicing is a lot of fun!

Plus, the more time you spend kissing one person, the more you notice what they like and don't like, and the better your kisses are. If your first kiss is bad, it doesn't mean that all your kisses are going to be bad – in fact, they're going to get better.

Plus, kissing is supposed to be fun, not stressful! Don't take it to seriously – allow yourself and your partner to have fun. Even if you're disappointed with the kiss, keep the mood light and playful, and try again!
E . Remember – the most important thing you can do for kissing your partner – just like the most important thing you can do for your relationship – is to communicate with each other.

Let your partner know if he does something you don't like, but don't forget to let him know if he does something you do like! Make it easy for your partner to be honest with you and don't get mad at him if he's honest.

Remember, even if the kiss went really bad, you can still stay intimate with your partner, as long as you can both laugh about it!

The other important aspect of communication is tied in with making each other feel good – you want to give your partner compliments. That way, they know how happy french kissing makes you, and they'll want to give you compliments in return.
Click here to take our quick (and shockingly accurate) "Does He Like You" Quiz right now and find out if he likes you…
Take The Quiz: Does He Like You?