When a guy wants to see you, it can be a bit confusing: Does he want a relationship or just to hook up? Here's how to tell if a guy wants to date you (and not just sleep with you).
So, you've been flirting with this guy and you keep messaging back and forth and you can clearly tell that he's attracted to you, but… does he want you as a girlfriend, or is he just trying to get you into bed? How can you tell when a guy wants a hook-up and when he is interested in more than that? It can be difficult to distinguish between the signs one way or another, so you may need a bit of help with that.
Here are 12 signs that he wants you for you, and not just the way you look. Give it a little time, pay attention, and you will be able to tell if he wants to get serious of he's just looking for a good time.
Take The Quiz: Does He Like You?
Click here to take our quick (and shockingly accurate) "Does He Like You" Quiz right now and find out once and for all if he likes you…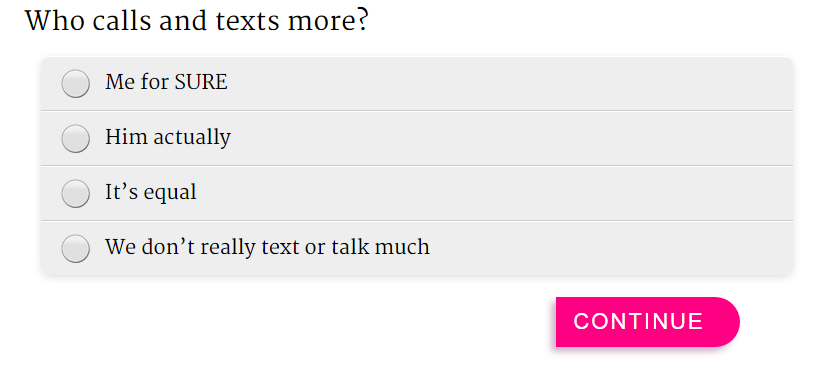 MORE: The 8 Biggest Signs He's Serious About You
1. He's Not Playing The Field
A guy who is only looking to hook up will not waste his time and won't put all of his eggs in one basket, so to speak. He'll be playing the field, double-dipping (or triple dipping!), and generally spreading it around left and right. And he won't even try to hide it.
If he's interested in dating you, however, he will make it pretty clear that you're the only one on his mind. He isn't dating someone else, sleeping with other women, or even talking about them. He only has eyes for you.
MORE: 7 Unmistakable Signs A Man Is Ready To Commit
2. He Takes You Out
This is one of the tests – does he ever take you out? Is he comfortable being seen with you in public? In fancy restaurants? Dinner and a movie? A man who puts his dating pants on takes you on "real", traditional dates. That means dressing up nice, opening car doors, pulling up chairs, and generally being a gentleman. He wants to woo you.
If he only wants to get you into bed, he won't bother with all of that. Instead, he'll just go for a booty call late at night and maybe order take-out. But cold pizza on his stained sofa while he watches TV and ignores you once he's satisfied is hardly a real date, is it?
MORE: Exactly How To Tell If You're Exclusive With Him
3. He Is Interested
You can usually tell whether a man is actually into you or just pushing you around by how keen he is. Does he reply to your texts? After how much time? Does he ever call you back? Does he disappear for days and come back with excuses, or doesn't even bother with those? These aren't good signs.
A man who cares about you and wants to date you will not ignore you. He won't wait for you to insist on going out; he'll ask you himself. He will make a point to reply to your texts, or call you back as soon as possible and will make you feel special.

MORE: 11 Enormous Signs He's Not Serious About You
4. He Is In Constant Communication With You
And speaking of replying, if he likes you like that, he will want to always be talking to you, even if it's just silly stuff or asking how you are. Maybe you don't talk every single day and he doesn't text you every 15 minutes like a lovesick teenager, but if he checks in a few times a week just to hear your voice or to see how you're doing, that is not the behavior of a man who wants to hook up. If he did, he'd say so and wouldn't bother with the cutesy messages.
5. He's Taking His Time
If he were interested, he'd makes a move, right? Well, not necessarily. Yes, it's true that men don't sit around analyzing everything; they just act. But it's also true that when they really like you and don't just want to bang one out, they will take their time and wait until the right moment has come up to make the first step. He wants things to be right, because he genuinely likes you and doesn't want to give off the wrong impression or put you off. It's so sweet! Waiting can be romantic.
MORE: 18 Signs a Man Wants to Be With You (And He Wants a Serious Relationship)
6. He Opens Up To You
We all know men are not excellent communicators, and they don't tend to volunteer information without a fight, especially to women. But he's not like that with you. In fact, he actually opens up to you and talks to you about personal matters all the time. He trusts you and feels comfortable around you, so he has no qualms about telling you private things he wouldn't tell anyone else. This is one of the biggest signs that for him, you are dating material, and not hook-up material. He would not do this with a woman he just wants to have sex with.
7. He Wants To Get Serious
It's not just women who are interested in "settling down", men eventually get tired of the chase, and "the game", too. He may have even told you, straight-up, that he wants to get serious. He is done with casual dating and he is looking for a long-term lady. That, paired with some other behaviors on this list, are indications that you may be that lady.

8. He Isn't Shy About Showing Affection
If you're a casual hook-up he doesn't particularly care for, he won't be big on displays in public. Not that he'd avoid you, but he won't really be all lovey-dovey toward you. If he likes you for real, however… he won't be able to keep his hands off you. Sneaky kisses, hand holding, an arm around your waist – you know, all that obnoxious pda that fresh couples engage in.
MORE: 21 Undeniable Signs He Likes You More Than a Friend
9. He's A Bit Shy Around You
When a man is trying to get you into bed, he'll be flexing his muscles all over the place, and generally acting cocky and a bit obnoxious. He doesn't really want you to like him as a person, just to find him attractive and be willing to go home with him.
A man who is looking to date you will be just a little bit shy. He's a bit nervous, because he really wants you to like him back and consider dating him, so he doesn't want to make any wrong moves, so he will be extra careful. Endearing, isn't it?
10. He Asks You Questions
Do you ever try to get to know your hook-ups? Well, neither does he. But he is trying to get to know you. And what does that tell you? That he is interested in you as a person and probably wants a relationship. There would be no use in asking about a hook-up's parents, preferences, childhood, job, etc. now would it?
MORE: 25 Signs He Wants A Relationship But Is Scared
11. He Takes You To Meet The Gang
The real test is meeting the family and friends. Men don't just take anyone home, but they sure are eager to take the woman they like to meet their buddies, so they can show her off. It's cute, really, how excited he is to take you home and say "Look, she's the one I was telling you about! Isn't she amazing?" Enjoy this feeling, because he really does want more than just your body.

12. He Listens And Respects Your Opinions
We can't love anyone we don't respect. Usually, you can tell if someone has feelings for you by the fact that they admire you and regard you with respect. They consider you an intelligent person, and they ask for your advice, welcome your opinion, and respect it, even when it may differ from their own. That's the first step towards being a couple and a team – asking for your input and taking it into consideration.
See? It's not that difficult after all! Once you get the hang of it, it becomes so clear that he is super into you and wants you to be his girlfriend! Congrats!
MORE: 10 Signs He Wants to Date You, Not Just Hook Up
This article shows several signs to tell if a guy wants to date you, now in any relationship I've found there are 2 pivotal moments that determine if your relationship ends in heartbreak or you get to live happily ever after so it's vitally important that you take the next step and read this right now, because at some point the man you want is going to ask himself: Is this the woman I should commit to for the long term? That answer determines everything… Do you know how men determine if a woman is girlfriend material (the type of woman he commits himself to) or if he sees you as just a fling? If not you need to read this next: The #1 Thing Men Desire In A Woman…
The second problem almost all women experience: At some point he starts to lose interest. He doesn't call you back or he becomes emotionally closed off. He seems like he's losing interest or pulling away – do you know what to do? If not you're putting your relationship and the future of your love life in great danger, read this now or risk losing him forever: If He's Pulling Away, Do This…
Want to find out if he really likes you? Click here to take our quick (and shockingly accurate) "Does He Like You" Quiz right now and find out once and for all if he likes you…
Take The Quiz: Does He Like You?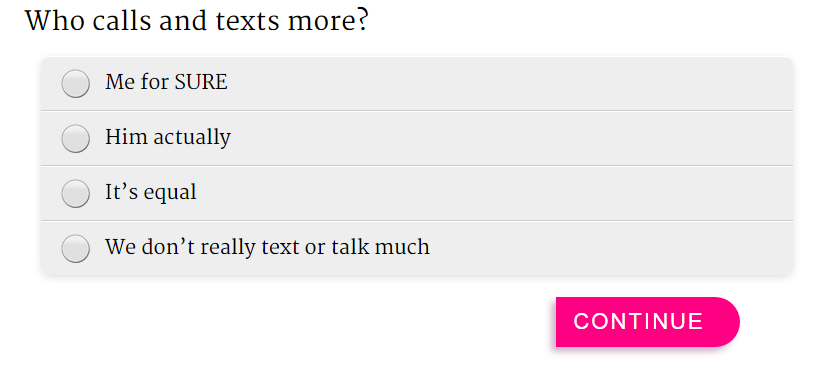 In summary…
Signs he's interested in dating you>
He's Not Playing The Field
He Takes You Out
He Is Interested
He Is In Constant Communication With You
He's Taking His Time
He Opens Up To You
He Wants To Get Serious
He Isn't Shy About Showing Affection
He's A Bit Shy Around You
He Asks You Questions
He Takes You To Meet The Gang
He Listens And Respects Your Opinions