So, the first date is over, and it went well! Or at least, you think it did (enough for a second date to be happening).
Most of the initial tension of getting to know each other is out of the way and you guys are looking forward to a second meet up.
To keep the energy going, you're going to want to have something amazing planned for your next date, something a little more fun than sitting across from one another talking. The small talk is over and you want to do something that gets you even closer.
MORE: Why Men Pull Away: 3 Easy Ways To Stop A Man From Withdrawing
You guys have talked and have a basic idea of what you are each about, right? But how well do you really know each other? A second date is what gives you the opportunity to expand that first impression of yourself.
You've broken the ice, now it's time to dive in!
Shared Experience Create Good Connections
Having a shared experience that is "outside the box" can help you learn things about your date that you would never find out facing each other at a dinner table.
Memorable events are also great because the event is forever lodged in the brain as happening with you! Memories are what we look back on when we are being nostalgic about those initial "butterflies" at the beginning of any relationship!
Take The Quiz: Does He Like You?
Click here to take our quick (and shockingly accurate) "Does He Like You" Quiz right now and find out once and for all if he likes you…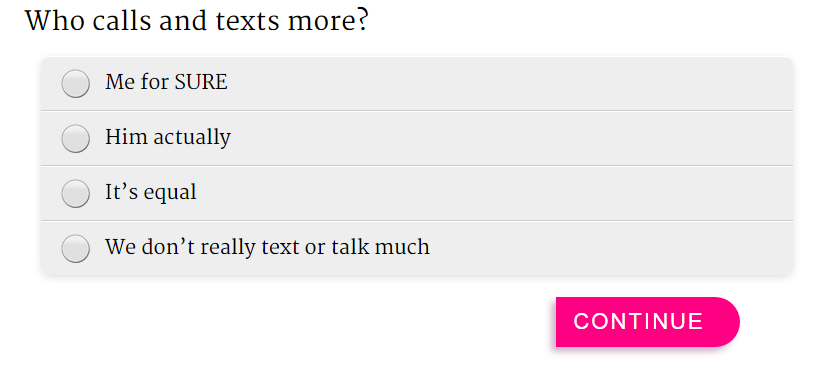 More importantly, these ideas will keep not only keep things moving in a positive direction, but should definitely help in landing that third date!
So here they are!
#1: Go out on a hike
This one is safe and easy, plus you get a free workout in during your date! Going on a hike is perfect on a nice day, and is great for conversation.
Not only is getting outside nice, you get to dress casually, and there's nothing too serious or crazy about it. I would definitely consider this a safer choice on the scale for craziness of second dates.
It's fun, easy and free!
MORE: How To Never Run Out of Things To Say On a Date
#2: Stay in and cook a meal together
Cooking is a great way to get to know one another. You'd be surprised how much you can find out about someone by a recipe they cook. Every recipe has a story, and in my case most are related to family and culture. It's a great way to talk about growing up as well. Some of my fondest memories are my dad teaching me how to cook eggs and pancakes or Alfredo sauce as kid. So, every time I'm cooking with someone I always tell them about my dad and what a great cook he was etc., while in normal cases I'd never mention him unless someone asked!
#3: Go to a museum
A museum is a great way to get someone talking, and also a good indicator of what someone knows about. There are tons of types of museums, all are good options. I see it as basically walking in a hall of conversation pieces! If you're not interested by the museum displays, at the very least you get to walk around and have good conversation in a pleasant environment!

#4: Go to the beach
The beach is a fun way to get to know someone. You get to swim around relax in the sun, and of course show a little skin! It's a relaxing second date where just lying down and closing your eyes is totally acceptable. The beach on a nice day is almost a guaranteed way to bring out some good vibes.
MORE: 11 Incredible Dating Tips That Will Change Your Life
#5: Go out to see a game!
Whether it be baseball, football, soccer, hockey, or basketball going out to a game is always entertaining. Professional sports games have a great atmosphere of excitement and fun, everyone including you is there to enjoy themselves. There's no chance for an awkward silence, you can just sit back and watch the game and enjoy it. For sports fans this is of course is particularly fun because you get to show off your acumen of the game and show a competitive side to yourself!
#6: Go out for a nice drive
This is one of my favorites. Pick out a nice neighborhood or a scenic route and drive around. I love looking at cool houses and architecture and thinking about what I would do to the property if I owned it. Driving around is also cathartic, and at times almost meditative. It's wonderful to be driving along a scenic route with windows down and not a care in the world. You can talk about what you're seeing, or anything you want. If talking isn't your forte, you can play some music and just cruise! It's a win-win situation!
MORE: The Real Reasons Guys Disappear After A Great First Date
#7: Go out shopping together
Going out shopping is always fun! I recommend heading to a farmer's market, or some flea markets where there will be cool and cheap items. Buy your date some old records for a buck, or anything you see! There's always something that will start a conversation while out shopping, whether it be an article of clothing, an outfit you see or a crazy trinket. Going out to even just peruse is a fun second date!

#8: Go out paintballing to really show your competitive side
This idea is extremely fun. Even though we know there is no real danger in paintballing, every time I've been it seems extremely real, and sometimes even scary! It can give you a major adrenaline rush, and it absolutely feels like your in real combat. It can be exhilarating, especially when you're on the same team. You get to show your teamwork ability and how you are able to think in a stressful environment. So, squad up with your date and try to take down the opposing team! This one will leave some lasting memories!
MORE: Why Men Pull Away: Top 3 Reasons
#9: Go totally "extreme" and try bungee jumping
I would recommend parachuting, but in reality that's quite an expensive, pre-planned and time consuming second date idea that includes a lot of paperwork, so why not do basically the same thing for less than half of the time and price? Doing daring things with one another is a bonding experience. You don't need to be afraid of heights for bungee jumping to make your stomach drop. It can be unnerving for anyone to stand on the precipice of a 500 foot drop, regardless if they know there is no real danger. This one will really show off your true colors and is no doubt unforgettable!
#10: Go to an amusement park
This one also involves adrenaline and excitement, just not to that "extreme degree". Anyone who has been to an amusement park knows there are some pretty serious rides. I recommend finding the scariest ones and going on them together. It is a very bonding experience and can even make you want to hold someone's hand. The wave of relief you'll experience after an exhilarating ride should also erase any previous anxiety or tension. Not only do you get some thrills, but you get to walk around have lunch, and every line is a reason to have a conversation.
#11: Go to the zoo!
Going to the zoo is always a fun idea. You get to see exotic animals that will get anyone talking, as well as walking around in a unique environment. If there's a exhibit where you can handle some interesting creatures, that's a major plus!
MORE: Ask A Guy: Why Do Guys Vanish After A Great First Date?
#12: Go bowling
Bowling is fun no matter what. Who cares how many gutter balls you throw, it's a great way to release some stress with a few drinks and some appetizers. Bowling for me has always been fun and never gone wrong. It's a care free environment where everyone is having a good time, and it's hard to feel anxious or awkward in the least. Take it seriously if you want and make it a competition- see who can get the first strike!

#13: Go out boating or rent some jet skis
Flying around on the water a high speeds while being able to stop and jump in for a quick swim at anytime is amazing! You can make it a picnic on the water or find your own private beach to relax on. There's no way you won't relax, this one is an easy route to a great time!
MORE: 9 Second Date Ideas That Are Better Than Your First Date
#14: Have a ski day
Skiing, or snowboarding is a really great second date idea if it's available. If you both have skills, it's fun to zip along and even race one another, or if it's their first time, it's fun to teach someone something they have never done before. The mountains are gorgeous, the air is fresh, you're allowed a beer at lunch, and every lift ride to the top is a great conversation with a view!
#15: Have a bonfire/ cookout
There's nothing better than sitting next to someone gazing at an open fire, embraced by the warmth of the flames, especially when you have food to cook over it! Grab some hotdogs and marshmallows and relax by the fire. It's a great way to recount old stories and find out more about one another. There is something primal and calming about sitting around a fire. It's fun to build, and it's a great way to bond! Maybe take it even further on the third date and go out camping for an evening!

These second date ideas should really spark things off and get you into a new level of dialogue and comfortability, and most importantly get you excited and ready for that third date! All of these are a great way to have a memorable experience with your date and in my opinion will absolutely get you to know each other on a more personal level. Have fun, and never take it to heart if you guys don't align!
MORE: 8 Second Date Ideas That Virtually Guarantee A Third
You cannot control how another person reacts to you, but as long as you have this fun "framework" to set your second date up, the pressure will be off you to "make conversation" and you can relax, get to know each other and see if you get along.
If things do not work out, realize it's better you know now! Why waste time on a dead end?
These are all great second date ideas to get to know each other better, avoid awkward silences and have fun. But if you want to deepen things, I want to ask you question…
Because there are 2 big turning points every woman experiences in her relationships with men and they determine if you end up in a happy relationship or if it all ends in heartbreak.
So pay attention because the next step to take is vitally important. At some point he's going to ask himself if you are the woman he wants to commit himself to for the long term…
Do you know how men determine if a woman is girlfriend material (the type of woman he commits himself to) or if he sees you as just a fling? If not, you need to read this next: The #1 Thing Men Desire In A Woman…
And the second big problem many women face: Do you feel he might be losing interest, going cold emotionally or pulling away? If so, then you need to read this right now or risk losing him forever: If He's Pulling Away, Do This…
Want to find out if he really likes you? Click here to take our quick (and shockingly accurate) "Does He Like You" Quiz right now and find out once and for all if he likes you…
Take The Quiz: Does He Like You?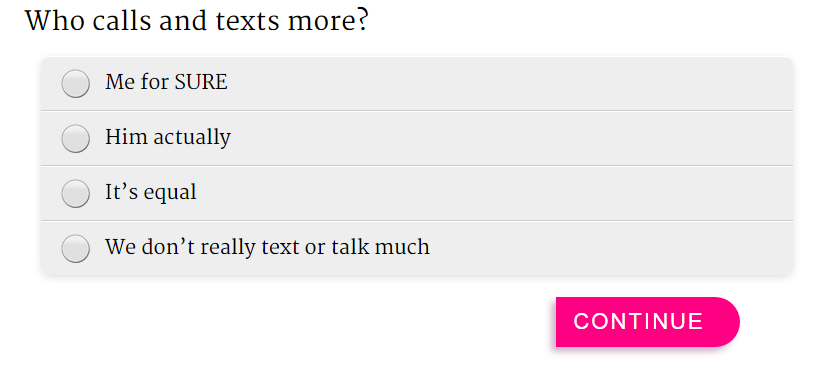 In summary…
Go out on a hike
Stay in and cook a meal together
Go to a museum
Go to the beach
Go out to see a game
Go out for a nice drive
Go out shopping together
Go out paintballing to really show your competitive side
Go totally "extreme" and try bungee jumping
Go to an amusement park
Go to the zoo
Go bowling
Go out boating or rent some jet skis
Have a ski day
Have a bonfire/ cookout