There's this sick game everyone plays in the dating world.
You've come into contact with it. How could you not?
It goes a little something like this:
"I'm going to try to act like I care less than you so that you care more, and then we switch back and forth and take turns."

And it sucks.
It sucks to try to navigate the world of blurred lines between "labels", "friends with benefits", "casual", and "kind of exclusive."
It sucks to feel confused all the time about where you really stand.
MORE: 10 Ways to Stay Single Forever
Why do we all have to play these stupid games? Why can't people just be honest with each other and make things simple?
"I like you. You're cute. Let's get a drink and talk about stupid stuff so that I can have some more time to watch you being cute."
It seems impossible to get to that simple place because we've all bought into this stupid deceptive dating game.
So let's end it. Here's a few ways we can tear down our toxic dating culture, one person at a time:
Take The Quiz: Does He Like You?
Click here to take our quick (and shockingly accurate) "Does He Like You" Quiz right now and find out if he likes you…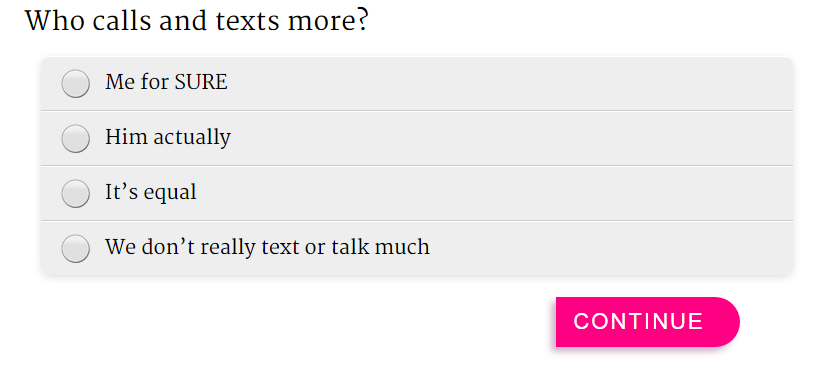 Respect Every Person You Meet
This one goes number one, because it is number one.
Can't have honesty without respect, and if you don't respect someone enough to be honest with them, why are you even trying to date them in the first place?
MORE: Is His Reason for Not Wanting to Commit Real or Just an Excuse?
No Settling

You know where some of the most painful lies in a relationship come in? When one person doesn't really like the other person all that much, but lies to themselves and their partner in order to keep things going.
Don't do that. Find a person you're unbelievably jazzed about dating, not someone you could live without.
Jealousy Isn't A Tool
It might feel good for a moment to watch someone get jealous over you, but is it worth it?
No. It just feeds back into the toxic dating culture, and makes everyone unhappy in the long run.
Date Who
you

Want To Date

Stop listening to your friends. If you really like the person you met last Wednesday, who cares where they work or what car they drive. Make real connections, and forget about other people's judgements. They don't matter anyway.

More: We Should Bring Back These 8 Old Fashioned Dating Habits
Don't Pretend To Care Less Than You Do
Because that game is just dumb. If you show someone you care about them and they run away, were they even worth it in the first place?
Don't Use People

This is important. If you're looking for casual sex, that's fine, as long as both people know it's just casual.
If you use someone that cares about you because you're lonely, or looking for someone to spend the night with, or for whatever reason, you're being toxic.
Don't use people. It all goes back to respect.
More: Top 6 Relationship Red Flags
Don't Ignore Your Needs
If you really want a relationship with someone but they just want to be casual, don't drop your needs for theirs. Drop them instead.
If they don't think you're worth being in a relationship with, they're not worth your time.
Take The Time To Get To Know People
Do they like Coke, or Pepsi? Are they into scary movies or more into comedies? If they could put one topping on pizza for the rest of their lives, what would it be?
The little stuff is the important stuff. Take the time to get to know people and you'll be surprised how important it really is.
It's OK To Be Corny

So what if texting someone to say hello first thing in the morning is a little corny, who cares?! It makes a person's day anyway.
If you feel like surprising them with a walk through the park and a gift, go right ahead.
Don't worry about how other people date, just do what feels natural to you.
More: 10 Unexpected Habits Of Happy Couples
Don't Make Someone Live Up To Your Expectations
Of course, you can hope that they're 5 star chefs with masters degrees in-between the sheets – but 99% of the time real people don't turn out like that.
Leave your expectations at the door and learn who they really are, deep down. You'll probably like that person better.
Go On Dates With People

I know, "drinks and whatever else" is standard practice, but it's boring.
MORE: 5 Types of Men to Avoid Dating
You can actually still go on a date with someone and have a good time!
Just because you went to dinner doesn't mean you're getting married. Lighten … (continued – Click to keep reading Our Dating Culture Sucks. Here's 15 Ways We Can Change It)