If you're reading this – you probably have a guy in mind and you want to see if he likes you – so I'm going to get straight to the point.
Here are the most glaring, drop-dead giveaway signs a guy likes you:
1. He Treats You Differently Than How He Treats Other People
If he's treating you differently, it means you're special to him in some way. So if he's normally talkative and social, but around you he's shy… he might like you.
The opposite is also true. If he flirts with you, but he flirts with everyone, it's not a sign that he likes you, because he isn't treating you any differently than he treats everyone else.
Like I just said – if he flirts with EVERYONE, this isn't a sign. But if he flirts with you when he sees you, it's a pretty good sign that he's at least a little bit interested.
And if he flirts through texting with you – and only you… even better.
3. He Goes Out of His Way to Spend Time With You
A guy who likes you is going to want to be around you. He's going to want to spend time with you, because it's going to feel good to him to spend time with you.
If a guy is always "busy", it means you're not high on his list of priorities. But if he's always got time to see you, it means being with you feels good to him… which is a great sign he likes you.
Take The Quiz: Does He Like You?
Click here to take our quick (and shockingly accurate) "Does He Like You" Quiz right now and find out if he likes you…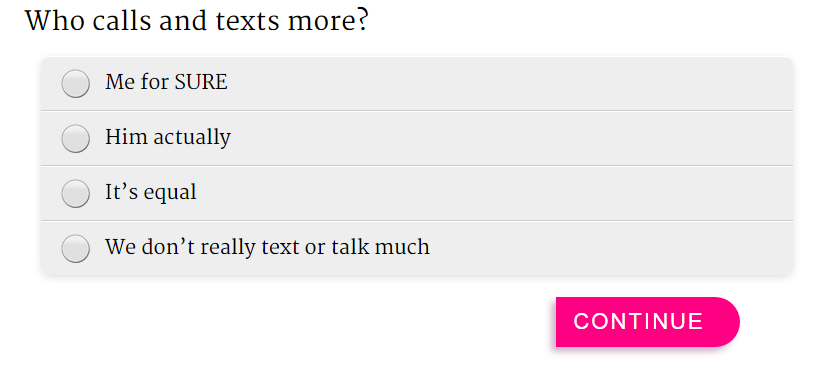 4. He Contacts You First
This ties back in with #3. Guys who are interested in you want to be around you – because it feels good for them to be around you.
So what does a guy who wants to be around you do? He calls you! He texts you! He makes plans to see you! And he doesn't wait around and make you do all the work either.
5. He's Genuinely Interested in What You Have to Say
If he's interested in you, he's going to be interested in what you have to say. And what your opinions are. And your sense of humor. And the things that fascinate you.
Point is, he's going to be interested in you. Who you are, what you like, and yes, what you have to say.
6. He Laughs A Lot When He's Around You
If he's laughing, he's feeling good. So if he's laughing a lot when he's around you, it means he's feeling good a lot when he's around you.
Which means you're probably the one making him feel good. Which (like I said before), is a HUGE sign he likes you.

7. He Compliments You (Has called you hot, gorgeous, cute, pretty)
If he's giving you compliments, it's because he's been thinking about you. You've been on his mind… and when he sees you, he can't help but say what he's thinking out loud.
That's a VERY good sign.
8. He Doesn't Mention Other Women
Let's look at the opposite of this one. If he's freely mentioning other women he's interested in when he's around you, it's a dead giveaway that he's not interested.
Why? Well, if he was interested, he wouldn't do anything to screw up his chances with you, and that includes talking about his other crushes. (Unless he's trying to make you jealous, which means he's kind of a jerk).
In the same vein as before, if he's interested in you, he's going to be hyper aware of any "competition" he has when it comes to your affections.
So if he perks up when you mention another guy, or makes a "joke", or gets jealous – that's great news for your chances with him.
10. He "Teases" You
I know, I know, it's a little bit middle school, but as many women are no doubt well aware, there are a lot of guys out there who never grow up past middle school.
So if he's "teasing" you, it might just be his (juvenile) way of letting you know he's interested.
And if he asks you a few naughty questions, it means he's very interested.

Now, I see the question of how to tell whether a guy likes you or not over and over in my inbox and to tell you the truth – it makes me want to tear my hair out.
Women must love House M.D. – because they do to relationships what House does to medical cases – break it down into microscopic bits and look at every tiny clue they can find to try to solve the "mystery."
I understand where women are coming from, humans have a tendency to project what we want to see onto a situation.
So if a woman isn't getting the obvious signs that a guy likes her, she's going to make damn sure to find some… and if that means micro-analyzing everything he does – she's going to talk to her inner House M.D. and think up all sorts of signs and symptoms that he's secretly in love with her.
But here's the thing…
When you have the right perspective about guys and dating – it becomes so simple to understand everything they do.
If I watch 30 seconds of how a guy acts around a woman, chances are I can tell whether he's interested in her. So can you, once you stop obsessing and picking apart every little thing he does.
Not only is that frustrating and a huge waste of time, it's also setting yourself up for a huge humiliating failure.
And before you jump down my throat with a cry of, "You just don't under-staaaand!" I get it. When I was younger and I liked a girl I would sit and obsess and try to figure out whether she liked me or not. I would obsess about what questions to ask her and everything. I'm not saying it's just women who do this – men do it too.
I like to call it the Analysis Black Hole. The more you feed it and try to analyze his behavior – the more you get sucked into it. And the closer you get to it, the harder it is to get perspective, and the harder it is to escape.
This is a really important concept – it will help you avoid untold amounts of misery and heartbreak down the line. For now – just remember: don't get sucked into the analysis black hole.

A couple of years ago I got a text from a woman I had met a few days beforehand and exchanged numbers with.
The text read, "Woww, so you are a jerk. I'm glad I know the truth about you… I thought we had a connection but clearly not. "
My crime? I hadn't texted her in a few hours.
She had been sucked all the way down into the analysis black hole – and it crushed her to a pulp. I didn't text her back, deleted her number and fed my phone into a garbage compactor.
I want to let you in on a secret: guys are not subtle.
There's a reason why every video of a guy getting hit in the groin is so popular on Youtube. Men are not hard to please – and they're not relationship masterminds.
If you think he's a mastermind dropping subtle hints – just remember that he laughed like a hyena when his friend sent him "Funny tee-ball dad gets hit in nuts" on Youtube a few hours ago.
So remember: stop feeding the analysis black hole.
Fixating on every little thing he's doing is going to make him feel weird around you – seriously. It gives off a weird vibe and kills his attraction to you.
I understand why you analyze signs, but it's not going to help you get the guy you want. That's because if you want a certain man to be attracted to you, you have to be proactive, not reactive.
That might sound complicated – but it's actually really simple. When you're reactive around the guy you want, you're sitting back, "analyzing signs", and allowing yourself to be a victim of circumstances. You have no power, no control over your relationship with him.
On the other hand, when you're proactive, you're actively doing things that are going to lead to the results you want – in this case having him be wildly attracted to you.
In life, it feels way better to be in control of a situation and actively going after the results you want, rather than sitting back, reacting, and hoping and worrying that you're going to get what you want.
And at its heart, being proactive with the guy you want is really simple. If you want him to be deeply attracted to you – all that matters is the quality of time you spend with him.
Guys like to be around women who are happy – who are able to let go and have a good time.
A guy doesn't want to be around a woman who's trying to "decode" every little thing he's doing – that's not fun, that's not comfortable, and that's not carefree for him. It makes him feel like he's walking on eggshells.

So if you want him to feel good around you – just let go of trying to figure him out and have fun with him in the moment.
That's how you proactively make him more and more attracted to you – by making him feel really good around you. When a guy feels good around you, he wants to be around you more. Crazy, right?
Don't focus on signs, signals, or clues – because he's not dropping them.
Instead, focus on proactively having a really good time with him – and you'll get the results you want, without all the stress, obsession, and worry.
Click here to take our quick (and shockingly accurate) "Does He Like You" Quiz right now and find out if he likes you…
Take The Quiz: Does He Like You?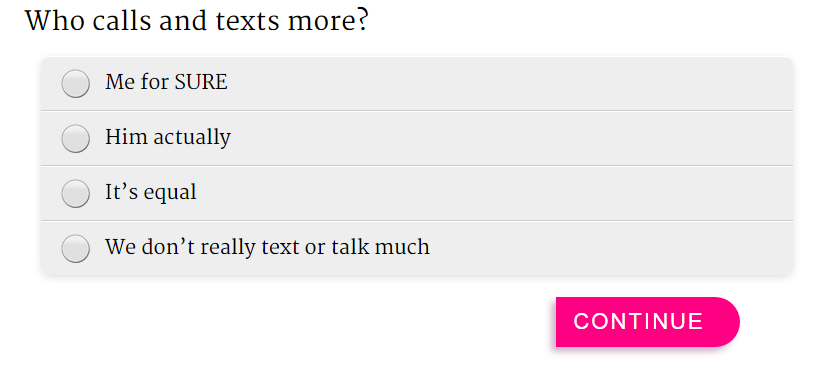 In summary…
The Biggest Signs A Guy Likes You
He treats you differently than how he treats other people
He flirts with you
He goes out of his way to spend time with you
He contacts you first
He's genuinely interested in what you have to say
He laughs a lot when he's around you
He compliments you (has called you hot, gorgeous, cute, pretty)
He doesn't mention other women
He gets a bit "jealous" if you mention another guy
He "teases" you