To text or not to text, that is the question. It's kind of frustrating how much you can get lost in fixating over whether or not you should send him a text or not. Especially when you aren't sure whether or not he will respond or not. That's one of the most frustrating feelings ever; sitting by the phone after putting yourself out there and sending the guy you like a text only to get no response!
And it's understandable why you want to talk to the guy you like. I mean, obviously, you have a crush on him. You are dying to have a conversation with him. It's natural.
But you don't want to call him – because who calls people anymore. That's crazy stalker person behavior. Plus, you might not even know if he likes you or not.
No, what you want to do is start a casual, laid back conversation with him. That means that you want to text him.
You don't have to think of what to say on the spot – and you can just relax and send them when you're ready (1). Sound good to you? Sounds good to me. Here's what to say.
Take The Quiz: Does He Like You?
Click here to take our quick (and shockingly accurate) "Does He Like You" Quiz right now and find out if he likes you…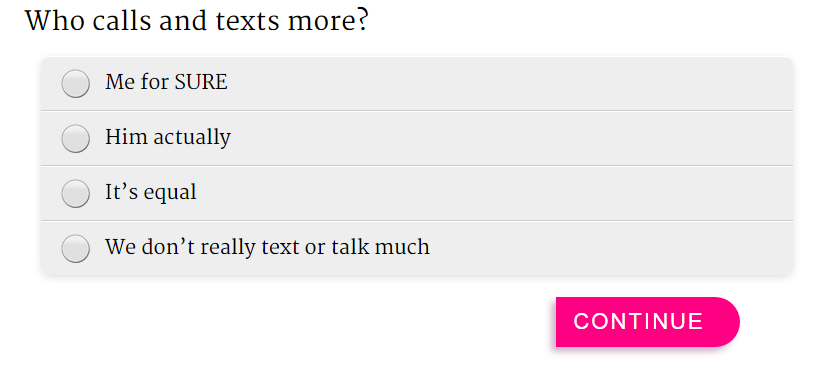 How To Get The Conversation Going
ok – so if you're going to text this guy, you're obviously going to need his number. Like, it'd be impossible to text him otherwise. This is obvious.

So if you want his number, the easiest way to get it is to ask him really casually, with no pressure on him whatsoever to give it to you (2).

Try a simple line like, "Let's trade numbers – what kind of phone do you have? I just got an iPhone and I love it.

Don't let things get awkward after you trade numbers – when you're both thinking about what it might mean. Keep the conversation going instead to stop any awkward moment in its tracks.

Now that you've got his number and you're ready to text him – it's time to send the first text (3). This might seem scary! In reality though, you've got nothing to worry about.

If you two did something together recently, you can use that to break the ice. You could say something like, "That movie was so good I'm still thinking about it" or "I can't believe how tasty that food was."
Let him text you back, and if he asks you a question, answer it and ask a question of your own. If he sends you back a short answer with no follow up – it's probably because he's busy. Don't worry about it – and don't keep sending questions if he doesn't seem interested in texting. Let him text you if he wants to.
If he doesn't text you back, don't worry about it. It's not under your control, and if you obsess about it, you'll make him want to text you less. He's probably just busy anyway.
Now it's time to read and see how your crush is texting with you. Is he texting you back with questions of his own? Is he just giving you answers and not making an effort to keep the conversation going? Is he texting you back at all?
Don't worry if he's being short or curt with his answers. It doesn't mean he doesn't want to talk to you, it just means he doesn't want to text at that moment – probably because he's busy doing something else. Whatever you do, don't read too much into it, and don't freak out if that's the case. The best thing you can do to make him interested is just accept it and move on.
However – if he's texting you back with open ended questions of his own – you can bet that he's interested in you. That's great! Keep talking to him and doing what comes naturally.

If things are going really well, and you're texting about personal stuff – maybe it's time to take things to the next level. If you're really getting into personal stuff, you can suggest that you meet and talk about it in person, or even go on a date together. Remember, fortune favors the bold!
Click here to take our quick (and shockingly accurate) "Does He Like You" Quiz right now and find out if he likes you…
Take The Quiz: Does He Like You?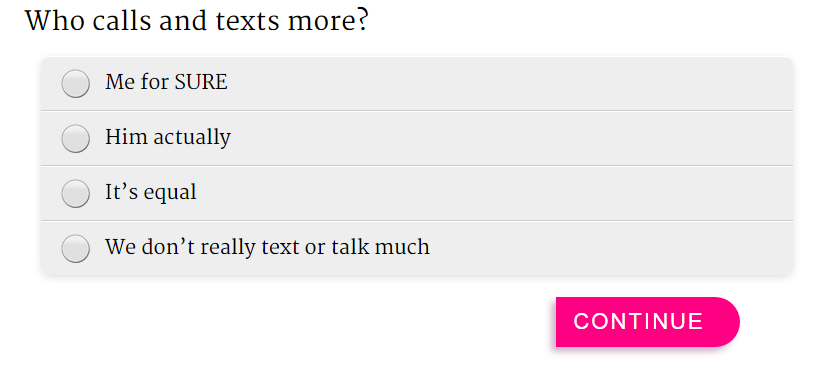 In summary…
How To Text Your Crush
To get his number so you can text him, just ask him casually for his number and try to have the attitude that it doesn't matter whether he gives it to you or not
Text him about something you did together recently to break the ice
Watch how he's texting you and gauge whether he's into it or not
Check to see if he's asking open ended questions – that means he's interested in you